Ergomec Srl specializing in the design and manufacture of the complete plant material so as silo storage, mixing and mechanical / pneumatic transport of granular and powder products. The company has been on the market for over 25 years and are reperesenterade of the world's leading companies.
Ergomecs head office and production is based in San Bonifacio (Verona). Here is a comprehensive production including workshop where silos and machines manufactured. The technical staff is very experienced and has expertise in plant construction, which contributes to an efficient technical support and customer service. Ergomec ensures each customer's needs and offers both individual service jobs as comprehensive service and always provide first class support for the installations delivered!
In 2006 Ergomec opened a new branch in Finale Emilia (Modena) called "Ergomec Engineering". Ergomec Engineering dedicated exclusively to engineering work such as design, calculations, drawings, etc.
In 2015 bought Ergomec Srl also a part of the shares in Rosadails, manufacturer of pneumatic conveyors. By Rosadails get Ergomec an even broader knowledge base in the pneumatic conveying technology.
In 2018 The Plastic Systems group takes over Ergomec

ACTIVITY

Material Plastic And Rubber Industry:
Automated systems for commodity transportation and supply.
Automated systems for plastics recycling facilities and sorting of waste.
Supply Lines for extrusion.
Pre-mixing raw materials.

Material Chemical industries:
Stainless Fira, FDA-approved solutions to the pharmaceutical industry.
Adhesive binder -and handling to e.g. paper industry.
Treatment of paints, varnishes, carbonates, oxides, polycarbonates, sulfates, phosphates, etc., to the chemical industry.
Handling of pesticides.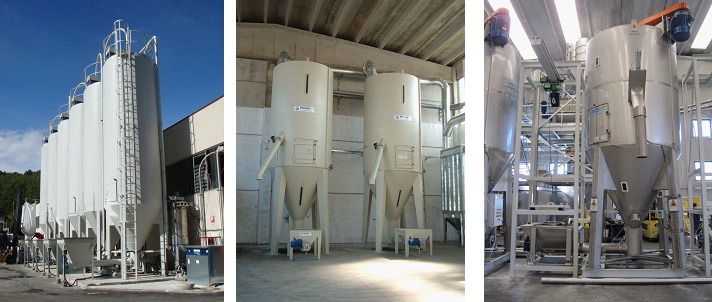 The product range includes:
Silos in aluminum, stainless steel, carbon steel, etc.
Hoppermatare
Automatic påsskärning
Tanks for commodity storage
Horizontal and vertical mixers
Dust separator
Pneumatic material conveying at different speeds
Screw conveyors in different versions
Separation via centrifugation
Easily understandable control systems for automation and monitoring
... and more!